Date of birth: November 27, 1940
Date of birth: July 20, 1973 (aged 33)
Height: 5′ 7.5″ (171 cm)
Weight: 140 pounds (64 kg)
Lee did demonstrations, but he never competed in competitions. I know a lot of people say kick-boxing was a point system, and not legitimate. But why didn't Lee ever go into professional boxing???
I mean he could have made a decent living, and if it really would have shown him more as a human being and less of a super-hero that people believed he was up on the screen. He could have fought has a Welterweight or a Super Lightweight. But he never did. He was an performer, and grew up as a child actor.
He was going to show you on film that he was the greatest fighter who ever lived without actually ever fighting anybody in real life. Even his real world challenges were never public. 
He was tough, and he was a bully, and he got into lots of fights growing up, but he didn't win every one of those fights either.
He's not going to beat up twenty guys, or never get knocked out, by a bigger stronger opponent, no matter how fast or strong he was "pound for pound."
Could he fight? I'm sure he could. And he got his share of challenges.
But even if he was able to hit as hard as a heavy-weight, he was not able to take the punishment caused by a heavier fighter. Any third rate heavy-weight would have pulverized Bruce Lee.
Why?
Becase you can't train for getting hit in the jaw no-matter how strong you are, Lee was frail, he was thin boned. He could have easily gotten his ribs broken. He had a long neck which is bad if your a boxer. There are fighters of equal weight who have died in the ring during a boxing match.
This is why we have  we have weight divisions in the first place. And why Bruce Lee is a myth. He "believable" created a super human persona, at that time, that he could never live up to in real life.
Bruce Lee body measurements:
Chest: 39″ (99 cm)
Waist: 29″ (74 cm)
Biceps: 16″ (41 cm)
Shoe size: 9 (US)/ 42 (EU)
Hair color: Black
Eye color: Dark Brown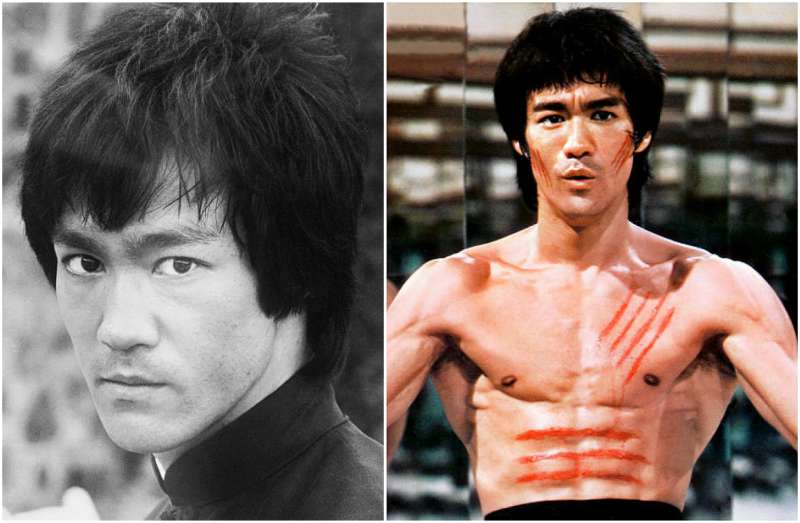 Bruce Lee tried to join the Army but was rejected because his eyesight was so bad.
One leg was almost an inch shorter than the other.
He had an undecended testical. Which make it appear as if he only had one.
He ate a lot of Hash.
He drank raw hamburger meat mixed with blood.
He had a device to electrocute himself for 30 seconds which he said was equal to doing 2000 pushups.
Bruce Lee
Bruce Lee was born on November 27, 1940, in the Chinese Hospital, in Chinatown, San Francisco. According to the Chinese zodiac, Lee was born in both the hour and the year of the Dragon, which according to tradition is a strong and fortuitous omen.[17] Lee and his parents returned to Hong Kong when he was three months old.
Linda Lee, in her 1989 biography The Bruce Lee Story, suggests that Grace (his mother), had a German father and was a Catholic.  So Bruce Lee was not 100% full blooded Chinese but a quarter German.
Lee's mother, Grace Ho, was from one of the wealthiest and most powerful clans in Hong Kong, the Ho-tungs. She was the half-niece of Sir Robert Ho-tung,[20][34] the Eurasian patriarch of the clan.
As such, the young Bruce Lee grew up in an affluent and privileged environment. Despite the advantage of his family's status, the neighborhood in which Lee grew up became overcrowded, dangerous, and full of gang rivalries due to an influx of refugees fleeing communist China for Hong Kong, at that time a British Crown Colony.
After Lee was involved in several street fights, his parents decided that he needed to be trained in the martial arts. Lee's first introduction to martial arts was through his father, from whom he learned the fundamentals of Wing-Chung.
The largest influence on Lee's martial arts development was his study of Wing Chun. Lee began training in Wing Chun when he was 16 years old under the Wing Chun teacher Yip Man in between late 1956 and 1957, after losing to rival gang members. Yip's regular classes generally consisted of the forms practice, chi sao (sticking hands) drills, wooden dummy techniques, and free-sparring.[36] There was no set pattern to the classes.
After a year into his Wing Chun training, most of Yip Man's other students refused to train with Lee when they learned of his mixed ancestry, as the Chinese were generally against teaching their martial arts techniques to non-Asians.
Lee's sparring partner, Hawkins Cheung, states, "Probably fewer than six people in the whole Wing Chun clan were personally taught, or even partly taught, by Yip Man".[4
However, Lee showed a keen interest in Wing Chun and continued to train privately with Yip Man and Wong Shun Leung.
Wan Kam Leung, a student of Wong's, witnessed a sparring bout between Wong and Lee and noted the speed and precision with which Lee was able to deliver his kicks.[42] Lee continued to train with Wong Shun Leung after returning to Hong Kong from America.
In the spring of 1959, Lee got into another street fight, and the police were called. Until his late teens, Lee's street fights became more frequent and included beating the son of a feared triad family. Eventually, Lee's father decided his son should leave Hong Kong to pursue a safer and healthier life in the United States. His parents confirmed the police's fear that this time Lee's opponent had an organized crime background and that there was the possibility that a contract was out for his life.
In April 1959, Lee's parents decided to send him to the United States to stay with his older sister, Agnes Lee, who was already living with family friends in San Francisco.
At the age of 18, Lee returned to the United States. After living in San Francisco for several months, he moved to Seattle in 1959 to continue his high school education, where he also worked for Ruby Chow as a live-in waiter at her restaurant.
In December 1960, Lee completed his high school education and received his diploma from Edison Technical School on Capitol Hill in Seattle.
In March 1961, Lee enrolled at the University of Washington and studied dramatic arts, philosophy, psychology, and various other subjects. Despite what Lee himself and many others have stated, Lee's official major was drama rather than philosophy according to a 1999 article in the university's alumni publication.
John Little states that Lee was an atheist. When asked about his religious affiliation, he replied, "none whatsoever", and when asked if he believed in God, he said, "To be perfectly frank, I really do not.
He soon met his future wife Linda Emery, a fellow student studying to become a teacher, whom he married in August 1964. Lee had two children with Linda: Brandon (1965–1993) and Shannon Lee (born 1969).
Lee began teaching martial arts in the United States in 1959. He called what he taught Jun Fan Gung Fu (literally Bruce Lee's Kung Fu). It was basically his approach to Wing Chun.[48] Lee taught friends he met in Seattle, starting with Judo practitioner Jesse Glover, who continued to teach some of Lee's early techniques. Taky Kimura became Lee's first Assistant Instructor and continued to teach his art and philosophy after Lee's death.[49] Lee opened his first martial arts school, named the Lee Jun Fan Gung Fu Institute, in Seattle.
Lee dropped out of college in early 1964 and moved to Oakland to live with James Yimm Lee. James Lee was twenty years senior to Bruce Lee and a well-known Chinese martial artist in the area.
Together, they founded the second Jun Fan martial arts studio in Oakland. James Lee was also responsible for introducing Bruce Lee to Ed Parker, an American martial artist and organizer of the Long Beach International Karate Championships where Bruce Lee was later "discovered" by Hollywood.
At the invitation of Ed Parker, Lee appeared in the 1964 Long Beach International Karate Championships and performed repetitions of two-finger push-ups (using the thumb and the index finger of one hand) with feet at approximately shoulder-width apart. In the same Long Beach event he also performed the "One inch punch.
Lee stood upright, his right foot forward with knees bent slightly, in front of a standing, stationary partner. Lee's right arm was partly extended and his right fist approximately one inch (2.5 cm) away from the partner's chest. Without retracting his right arm, Lee then forcibly delivered the punch to volunteer Bob Baker while largely maintaining his posture, sending Baker backwards and falling into a chair said to be placed behind Baker to prevent injury, though Baker's momentum soon caused him to fall to the floor. Baker recalled, "I told Bruce not to do this type of demonstration again. When he punched me that last time, I had to stay home from work because the pain in my chest was unbearable"
While in the United States from 1959 to 1964, Lee abandoned thoughts of a film career in favour of pursuing martial arts. However, a martial arts exhibition on Long Beach in 1964 eventually led to the invitation by William Dozier for an audition for a role in the pilot for "Number One Son". The show never aired, but Lee was invited for the role of the sidekick Kato alongside the title character played by Van Williams in the TV series titled The Green Hornet.
The show lasted only one season of 26 episodes, from September 1966 to March 1967. Lee and Williams also appeared as their respective characters in three crossover episodes of Batman, another William Dozier-produced television series. This was followed by guest appearances in three television series: Ironside (1967), Here Come the Brides (1969), and Blondie (1969).
At the time, two of Lee's martial arts students were Hollywood script writer Stirling Silliphant and actor James Coburn. In 1969 the three worked on a script for a film called The Silent Flute, and went together on a location hunt to India. The project was not realised at the time, but the 1978 film Circle of Iron, starring David Carradine, was based on the same plot. In 2010, producer Paul Maslansky was reported to have planned and received funding for a film based on the original script for The Silent Flute.
In 1969, Lee made a brief appearance in the Silliphant-penned film Marlowe, where he played a henchman hired to intimidate private detective Philip Marlowe, (played by James Garner), by smashing up his office with leaping kicks and flashing punches, only to later accidentally jump off a tall building while trying to kick Marlowe off. The same year he also choreographed fight scenes for The Wrecking Crew starring Dean Martin, Sharon Tate, and featuring Chuck Norris in his first role. In 1970, he was responsible for fight choreography for A Walk in the Spring Rain starring Ingrid Bergman and Anthony Quinn, again written by Silliphant. In 1971, Lee appeared in four episodes of the television series Longstreet, written by Silliphant. Lee played the martial arts instructor of the title character Mike Longstreet (played by James Franciscus), and important aspects of his martial arts philosophy were written into the script.
According to statements made by Lee, and also by Linda Lee Cadwell after Lee's death, in 1971 Lee pitched a television series of his own tentatively titled The Warrior, discussions of which were also confirmed by Warner Bros. During a December 9, 1971 television interview on The Pierre Berton Show, Lee stated that both Paramount and Warner Brothers wanted him "to be in a modernized type of a thing, and that they think the Western idea is out, whereas I want to do the Western".[67] According to Cadwell, however, Lee's concept was retooled and renamed Kung Fu, but Warner Bros. gave Lee no credit.
Warner Brothers states that they had for some time been developing an identical concept,[69] created by two writers and producers, Ed Spielman and Howard Friedlander. According to these sources, the reason Lee was not cast was in part because of his ethnicity, but more so because he had a thick accent.
The role of the Shaolin monk in the Wild West was eventually awarded to then-non-martial-artist David Carradine. In The Pierre Berton Show interview, Lee stated he understood Warner Brothers' attitudes towards casting in the series: "They think that business-wise it is a risk. I don't blame them. If the situation were reversed, and an American star were to come to Hong Kong, and I was the man with the money, I would have my own concerns as to whether the acceptance would be there.
Producer Fred Weintraub had advised Lee to return to Hong Kong and make a feature film which he could showcase to executives in Hollywood.[72] Not happy with his supporting roles in the US, Lee returned to Hong Kong. Unaware that The Green Hornet had been played to success in Hong Kong and was unofficially referred to as "The Kato Show", he was surprised to be recognized on the street as the star of the show. After negotiating with both Shaw Brothers Studio and Golden Harvest, Lee signed a film contract to star in two films produced by Golden Harvest.
Lee played his first leading role in The Big Boss (1971), which proved to be an enormous box office success across Asia and catapulted him to stardom. He soon followed up with Fist of Fury (1972), which broke the box office records set previously by The Big Boss. Having finished his initial two-year contract, Lee negotiated a new deal with Golden Harvest. Lee later formed his own company, Concord Production Inc. (協和電影公司), with Chow.
For his third film, Way of the Dragon (1972), he was given complete control of the film's production as the writer, director, star, and choreographer of the fight scenes. In 1964, at a demonstration in Long Beach, California, Lee had met karate champion Chuck Norris. In Way of the Dragon Lee introduced Norris to moviegoers as his opponent in the final death fight at the Colosseum in Rome, today considered one of Lee's most legendary fight scenes and one of the most memorable fight scenes in martial arts film history. The role had originally been offered to American karate champion Joe Lewis.
Not the black boxer and American Heavy Weight Champion of the world. Joe Lewis (March 7, 1944 – August 31, 2012) was an American kickboxer, point karate fighter and actor. As a fighter, Lewis gained fame for his matches in the 1960s and 1970s.
I also would like to say that Chuck Norris never gave Bruce Lee credit for the fact that he made him a movie star. No one knew who Chuck Norris was, or cared, only that he was the first person who almost beat Bruce Less's ass. So they put him in movies after Bruce's death.
On May 10, 1973, Lee collapsed during an automated dialogue replacement session for Enter the Dragon at Golden Harvest in Hong Kong. Suffering from seizures and headaches, he was immediately rushed to Hong Kong Baptist Hospital, where doctors diagnosed cerebral edema. They were able to reduce the swelling through the administration of mannitol. The headache and cerebral edema that occurred in his first collapse were later repeated on the day of his death.[96]
On July 20, 1973, Lee was in Hong Kong to have dinner with actor George Lazenby, with whom he intended to make a film. According to Lee's wife Linda, Lee met producer Raymond Chow at 2 p.m. at home to discuss the making of the film Game of Death. They worked until 4 p.m. and then drove together to the home of Lee's colleague Betty Ting Pei, a Taiwanese actress. The three went over the script at Ting's home, and then Chow left to attend a dinner meeting.
Later, Lee complained of a headache, and Ting gave him the painkiller Equagesic, which contained both aspirin and the tranquilizer meprobamate. Around 7:30 p.m., he went to lie down for a nap. When Lee did not come for dinner, Chow came to the apartment, but he was unable to wake Lee up. A doctor was summoned, and spent ten minutes attempting to revive Lee before sending him by ambulance to Queen Elizabeth Hospital. Lee was declared dead on arrival, at the age of 32. Lee never saw the success of Enter the Dragon, the most successful martial arts film in history.
Today/15
Post/8712
Site/16111
Total/64116
How useful was this post?
Click on a star to rate it!
Average rating / 5. Vote count: